Pinterest is a Visual Search Engine. It is Not a Social Media Platform.
Even Pinterest CEO Ben Silbermann has said it himself: "We're not a social network."
So, what does that mean for you?
It means that Pinterest is not as concerned with your follower count as they are with how much value your pins provide to readers.
That's measured in several ways:
Average repin rate of your pins relative to follower count
Average click through rate for your pins when they appear in the SmartFeed, or in search results
Average time spent on your site AFTER someone clicks on a pin
Bounce rate of whatever landing page/blog post your pin leads to
At the end of the day, Pinterest has an algorithm. And the algorithm is there to identify quality and relevance to a particular user.

If you can appease the algorithm, you are going to win.
Here's what that means for you:
Making sure your pins are SEO optimized for whatever keyword(s) you want your article/pin to rank for
Having pins that get high click through rates
Having pins that get high repin rates
This article will help you accomplish these goals.
How to Initially Build Your Account
This section is for those who are new to Pinterest and need to get their account set up the correct way for their blog.
The scope of this course is focused on the design aspect of creating great pins, but I wanted to include this section just to get everyone up to speed.
1. Get a Business Account and Set Up Rich Pins
You want to make sure you aren't using a personal account to build up your Pinterest profile for your website.
With a business account, you'll have access to Pinterest Analytics, as well as the ability to create "Rich Pins". You can also pay Pinterest to promote your pins with a business account, but that's definitely not necessary. We experimented with about $50 worth of promoted pins before figuring out we could make our pins go viral on our own, without the help of ads.
Rich pins make your pins stand out just a bit more by adding a bold link title in your pin description. Getting rich pins is really easy (and free, don't worry). You just need to confirm your website with Pinterest.
2. Create a "Best Of" Board
Once you have a business account, the next step is to create your "Best Of" board.
The purpose of this board is to house only pins that link to content on your own website. This is not the place to pin other peoples' stuff. You can (and should) make a bunch of other boards for that.
When other users are looking at your account and deciding whether or not they want to follow you, they are going to be looking for this board to give them a sense for what type of content you yourself are contributing to Pinterest. In your board description, be sure to include lots of keywords that users might be searching for.
Ideally, you'd like to have at least 50 or so pins on this board. If you don't have that many pieces of content, don't worry (I'll show you how to fix that problem later).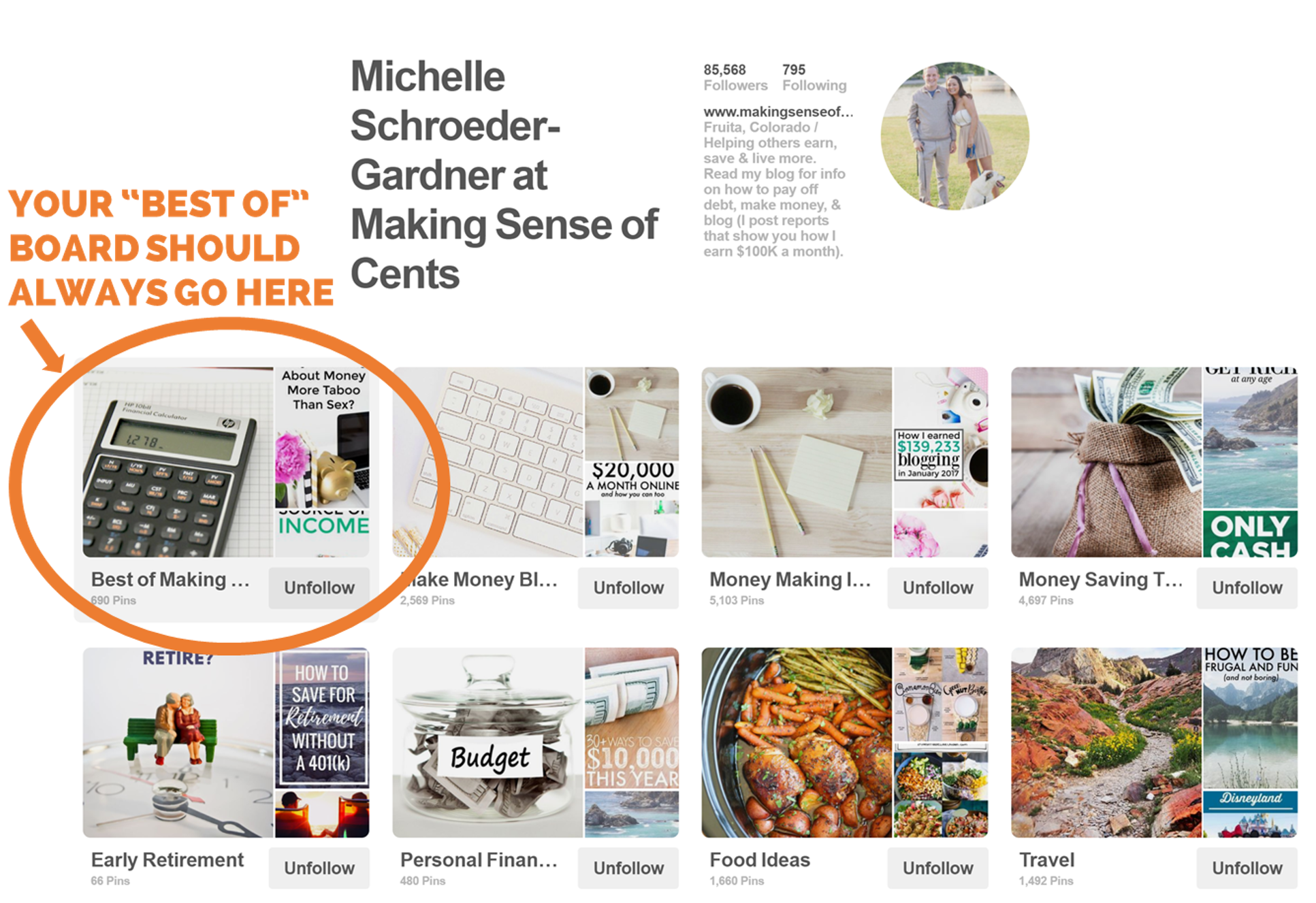 3. How to Network & Join Group Boards
This is where the real magic is with Pinterest. As mentioned, the number of followers you have on Pinterest doesn't mean all that much…it's all about how many followers are on the group boards that you contribute to. And how engaged those followers are with the board.
When starting out, you want to be on as many as you can. You can always prune out the low quality boards later, but the first priority is just getting on boards. I cannot stress that enough.
So how do you get on these group boards?
You gotta hustle.
The first step is to compile a list of boards that you would like to join. The best way to do this is to look at what group boards some of the top accounts in your niche are contributors to. You can also use PinGroupie.com and search for group boards centering around different topics.
Each group board admin is going to have a different way that they want you to apply to their board. Some want you to email them, some prefer a DM, some want comments, and some don't give you any directions at all (that's when you go full on stalker-mode and go to their website and search for their contact info).
Mass group board application means a lot to keep track of, so I recommend using a spreadsheet
Once you have your spreadsheet started, it's time to get to work and start contacting all of these people.
It's going to take you a long time, and most of the time you will never hear back and you'll never get added to their boards. That's just the way it goes, and it's okay. You gotta cast your net wide and understand that rejection is just part of the game.
Here's the email template I've used to contact group board owners:
---
Hi _________,I was hoping to catch you and see if you would be open to adding me as a contributor to your ___________ (actually link to the board, they may have several and this makes it easier for them) group board.
I regularly write about __________, ___________, and __________ topics on my website that would be both interesting and valuable to your readers. I also like to regularly promote and highlight other members of the community so that everyone benefits from collaborating.
My Pinterest profile: ____________
My Pinterest email: __________
Thanks a bunch,
Jeff
---
Don't over complicate it. Just send a quick note and give them all the relevant info they need so they can scope out your profile and make a decision on whether or not to add you.
Also, make sure that you are following the board and the board owner before you contact them. Please.
Note: Don't use this template verbatim. Switch it up and make it your own. I can't tell you how many times I have received a group board email from someone using my own template! Not a good look!
4. Put Your Pinning on Autopilot
When you're busy building your blog or your website, you can't afford to spend your entire day on Pinterest.
This is where automation comes in.
Instead of manually pinning each of your pins to your group boards all the time (along with finding other peoples' stuff to pin), there is software out there that takes care of all that for you. And it's awesome.
I've used a few different programs, but my favorite by far is Tailwind
One of the coolest things about Tailwind is its Smart Scheduling feature. What this means is that it will schedule for pins for when your Pinterest audience is most engaged (using its own proprietary algorithm). You don't have to worry about picking the right times to post pins. Talk about a great way to increase Pinterest engagement!!
5. Reapply to Group Boards That You Never Heard Back From
Just because you were rejected the first time doesn't mean you should give up. There's a bunch of reasons why you should revisit your spreadsheet every few months:
The board owner might have missed your DM, email, etc
Your profile might not have been good enough back then, but now it's much better
They could have just forgotten to add you
No matter what might have happened the first time, go ahead and get back in touch with them. You have nothing to lose!
Don't use the exact same script, and be sure to remain polite and courteous.
---
Following the steps outlined above will take you some time to do correctly, but it's important that you do it so you can accumulate a baseline audience.
This is the foundation that needs to be in place so that what you can get the most from what you will be learning in the rest of the course.
Like I said in the previous section, audience size isn't everything…. but getting a decent foundation set up is going to help set off the chain reaction for your future pins to go viral that much quicker.
On-Brand Pins vs. Mass Appeal (And Why You Need Both)
I want to preface this section by saying, if your blog content is no good, you do NOT want to have a linear brand presence on Pinterest.
What I mean is, if someone sees a pin that they can quickly tell leads to your website and they think to themselves, "I need to steer clear. Last time I went to that site it was a total waste of my time", then you have a problem.
SO, assuming you have high quality content on your blog, it's worth investing the time and effort into building a cohesive "brand" for your pins (that preferably matches the overall aesthetic of your blog).
A few bullet points on branding that I want you to notice:
Color is probably the first thing that you should notice.
A combination of block font and script (handwriting) font generally works well, as long as the script font is easy enough to read.
Text contrast (either light text on dark background or vice versa)
Each pin must have either a logo or the site url at the top or the bottom of the pin
I don't have a rigid format or theme for each pin. I'm constantly switching it up, while still keeping the same overall vibe.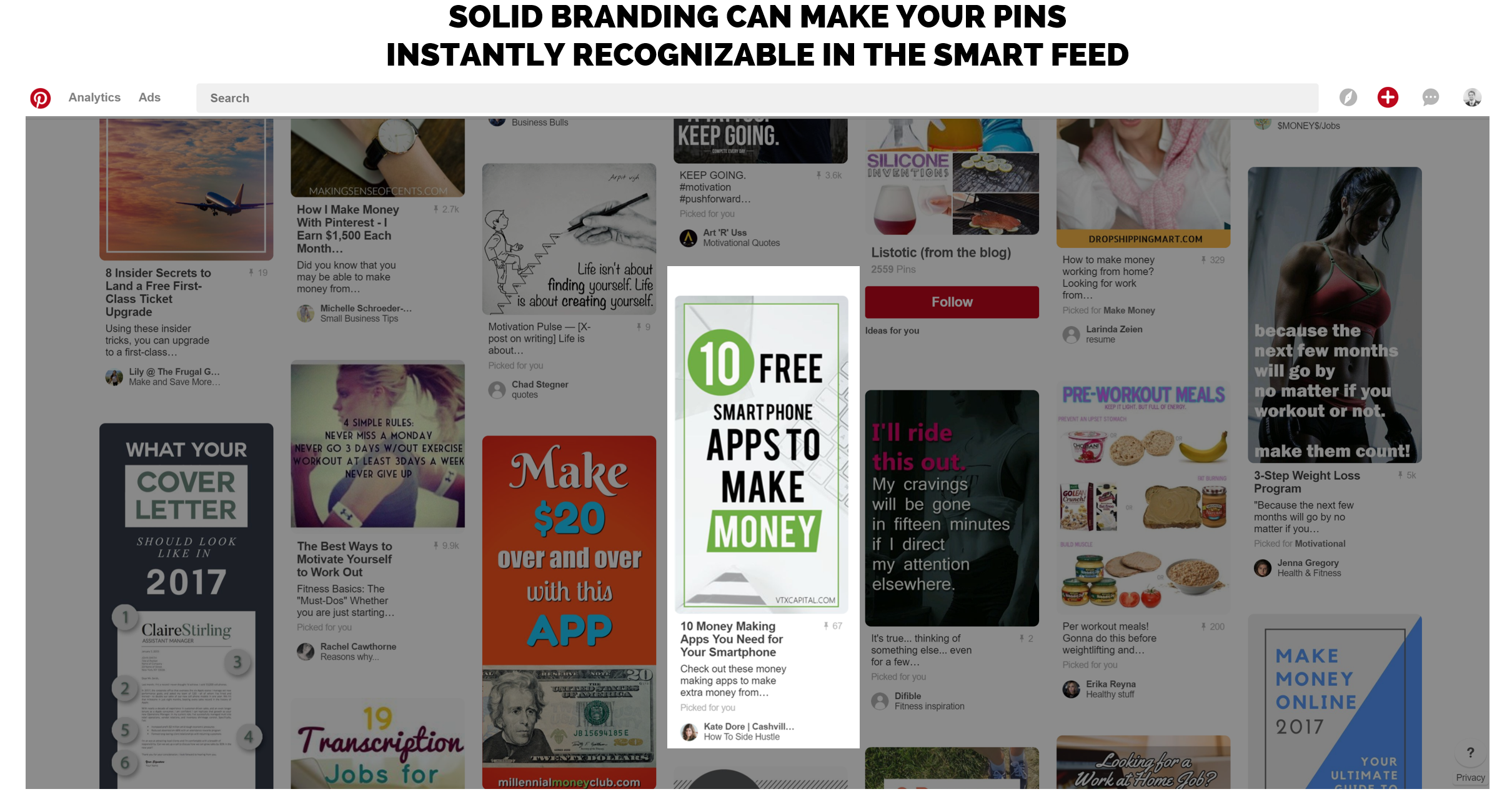 If you become known as a great resource for helpful content in your niche, having prominent branding in place will really help your fans spot your pins in a cluttered SmartFeed.
With that being said, though…
For Maximum Traffic, You Also Need to "Break Brand" in Order to Appeal to More Segments of Your Audience
When you use Pinterest, always keep your overall goal in mind: to extract the most free traffic humanly possible from the platform.
In order to make that happen, you're going to have to be a little creative.
That means making more than one pin for each article (this is perfectly "socially acceptable" among power pinners, don't worry). And it means hitting your audience in different ways, in hopes that something will stick and they will click through to your blog content.
Below is an example of what I mean by hitting your audience at different angles: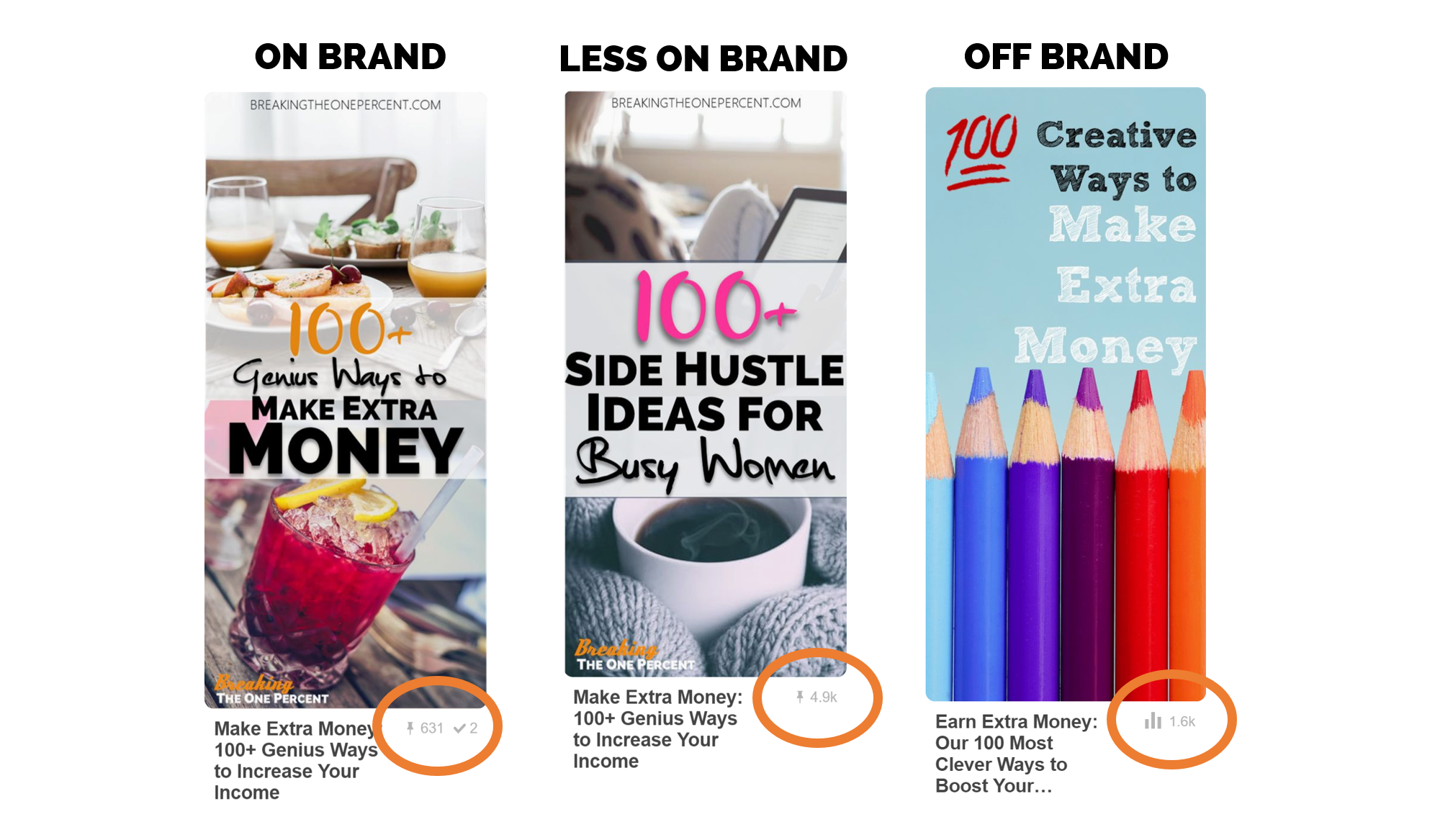 Note that the "on brand" pin on the left was actually the worst performer of the three. By not creating other pins that have a stronger appeal to our female audience, we were leaving traffic on the table. And that is the last thing we want to do!
Here's another example: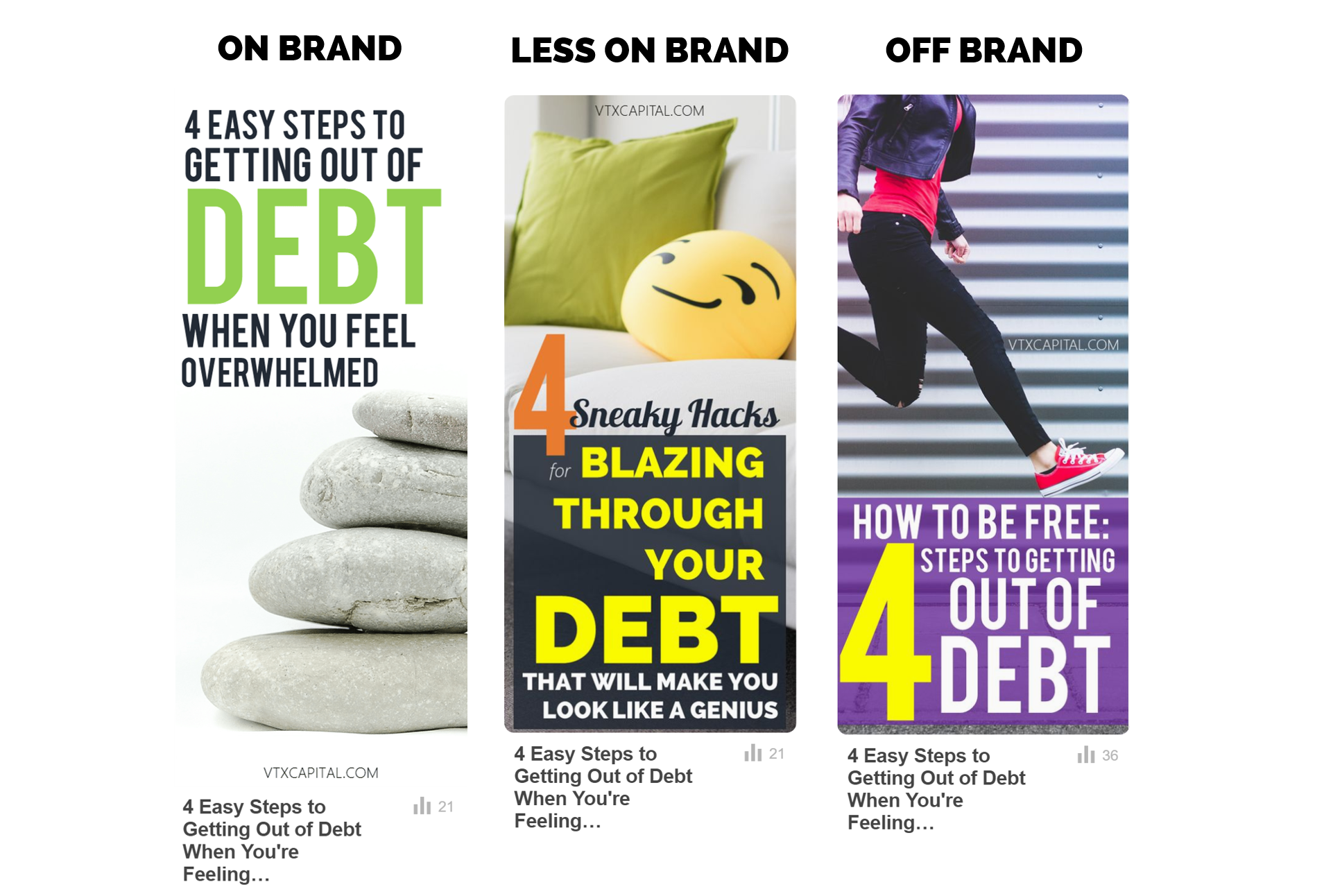 For your most popular blog posts, I wouldn't stop at just 3 pins. I would consider making up to 10 or so. You just want to be sure to not pin all of them out to your group boards at the same time (that would be pretty obvious). But rotating your pins to find the best performer and maximize your traffic is smart.
Pinning for Engagement vs. Pinning for Click Through
Now that Pinterest is getting rid of the "Like" button, there are only two ways that users can interact with your pins:
They can click on the pin and read the blog post that it leads to, or
They can repin it to one of their boards to save/look at later
If you're lucky, they'll do both.
Most times though, you're going to get one or the other.
Obviously the end goal here is to get traffic, but that does not mean you should be making pins that only focus on accomplishing that goal.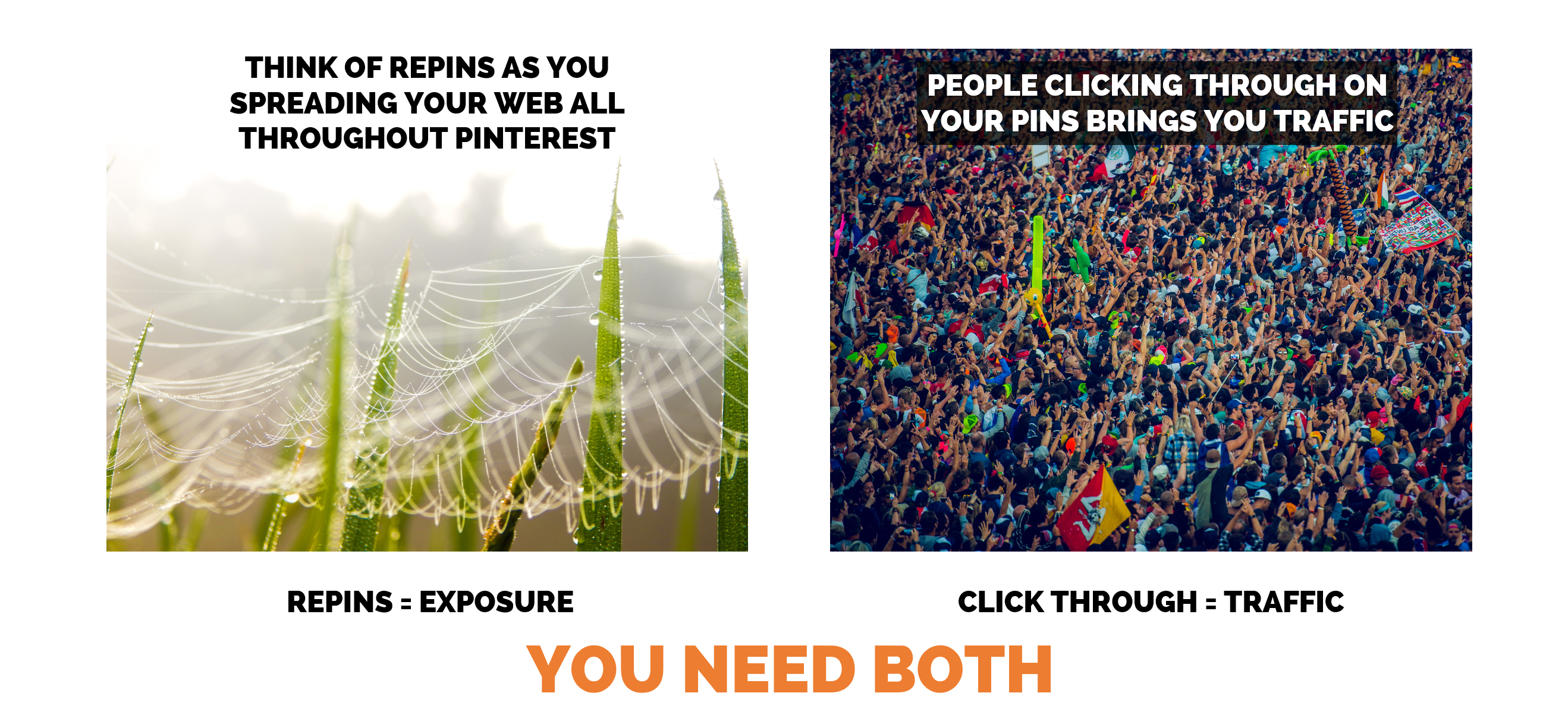 The best way to illustrate the different pin types is with an example (the pins in this example are not mine, but they illustrate my point perfectly):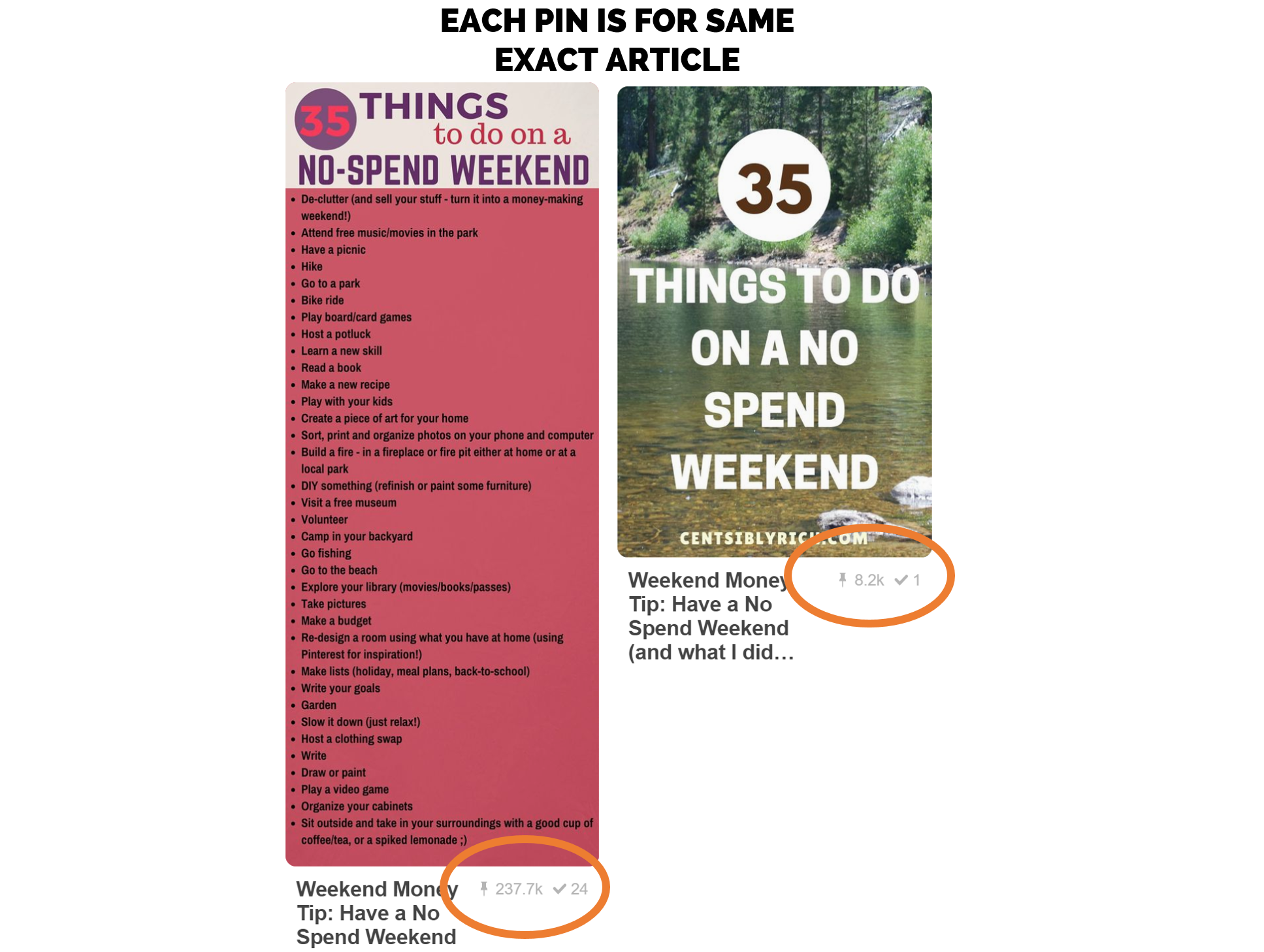 The pin on the left has been repinned nearly a quarter million times. Why? Because it's a very handy list, and it's all right there on the pin itself. No need to click to the website, wait for the page to load, risk being let down, etc. This pin's sole purpose is to be repinned/saved.
250k people have that left pin on their profile now. That's HUGE exposure and HUGE visibility.
The pin on the right is the exact opposite. Since the pin doesn't list the activities, it forces the reader to click through to the post.
It makes them curious. After they click through and read the article, though, they most likely are done with the pin at that point.
As a result, you see that only 8k people ended up saving the pin- a stark contrast to the pin on the left.
But I guarantee you the pin on the right drove more traffic than the pin on the left.
As I said before, traffic is the end goal for most bloggers on Pinterest. You need the left pin to get your name out there as much as possible, and you need the pin on the right to convert as many eyes on the pin into traffic on your site.
Why You Need a Comprehensive Design Strategy for Maximum Traffic
As I talked about in the last section, creating pins designed for click through (traffic) is different than creating pins for engagements (repinning).
Pins Designed for Traffic:
Withhold some information
Make the reader curious
Grab attention as soon as possible
Pins Designed for Repinning:
Create value for the reader without them having to click through
If it's a list post, share the items on the list
If it's a how-to post, write down the steps on the pin itself
To tie this together with the first lecture in this section, you can add another layer of variety to your pin types. See the chart below:
Below is just one example of what each pin type would like, for the exact same article: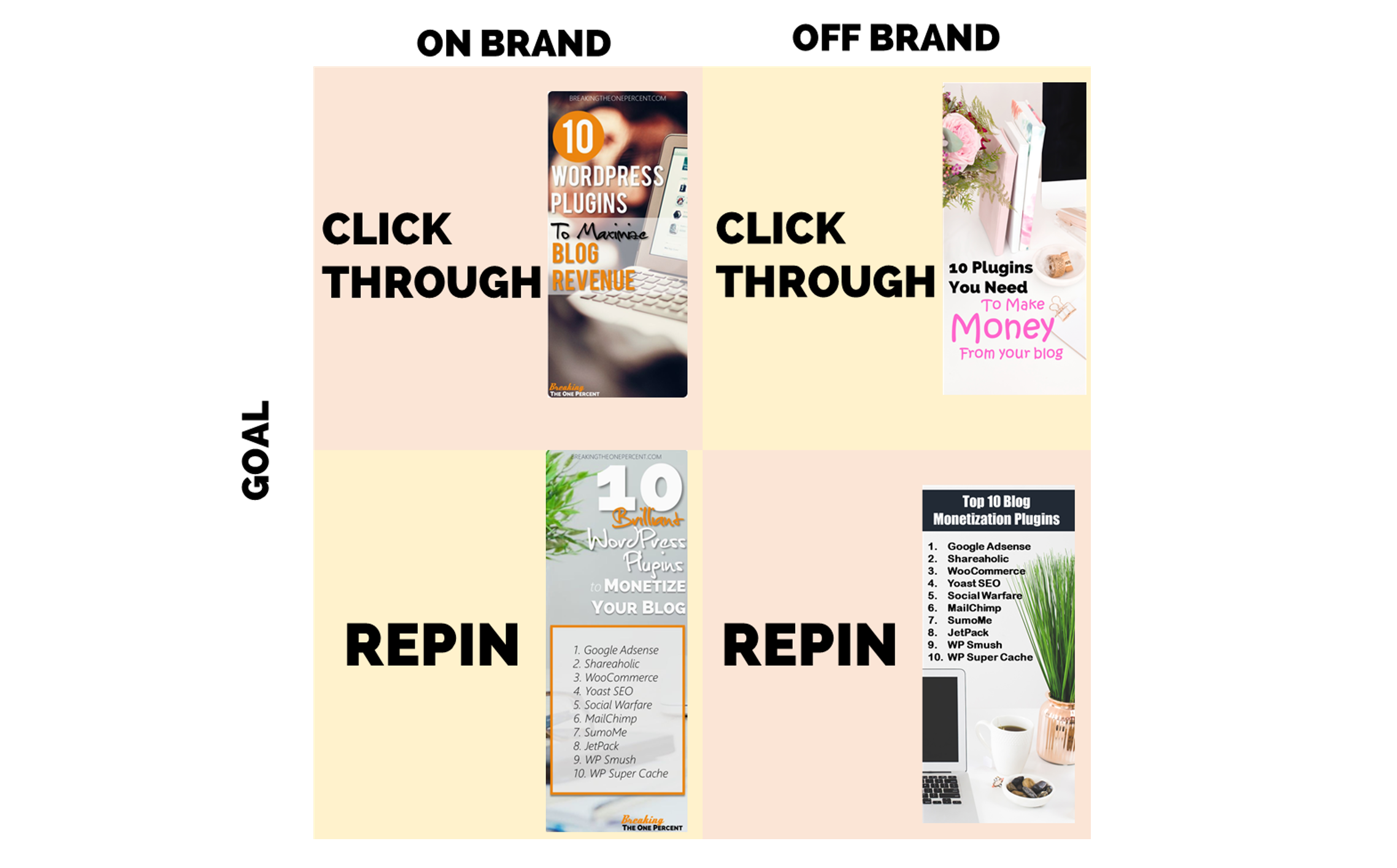 To really get the most out of Pinterest that you possibly can, you should experiment with all the pin types in the chart above.
You won't have (or even be able to) do this for all of your blog posts, but for your most popular articles, you definitely need to put some effort into trying. And for each quadrant, you can still make multiple pins. For instance, "Off Brand, Click Through" could have 5 different pin designs.
(Again, make sure you aren't scheduling/pinning all of these pins at the same time. You don't want to make it overly obvious that you have multiple pins leading to the same article!!)
Adding Calls to Action (CTAs) to Your Pins
Sometimes, even answering the "What's in it for me?" question isn't enough. Many pinners need just that little extra nudge to actually click through to read your article.
Remember, most of your traffic is going to come from the SmartFeed. And the SmartFeed is a dog eat dog world- there's a ton of competition for attention.
So how do you edge out your competitors and get your coveted click?
By adding a call to action to your pin (also known as a CTA).
Note: You don't need to do this for every pin, and it won't be necessary for every pin. Just think of CTAs as another tool in your arsenal.
Common Examples of Calls to Action
Read More
Learn More
See the Steps
Watch How
Start Now
Sign Up
Another good CTA to use is a "teaser" of sorts. See below: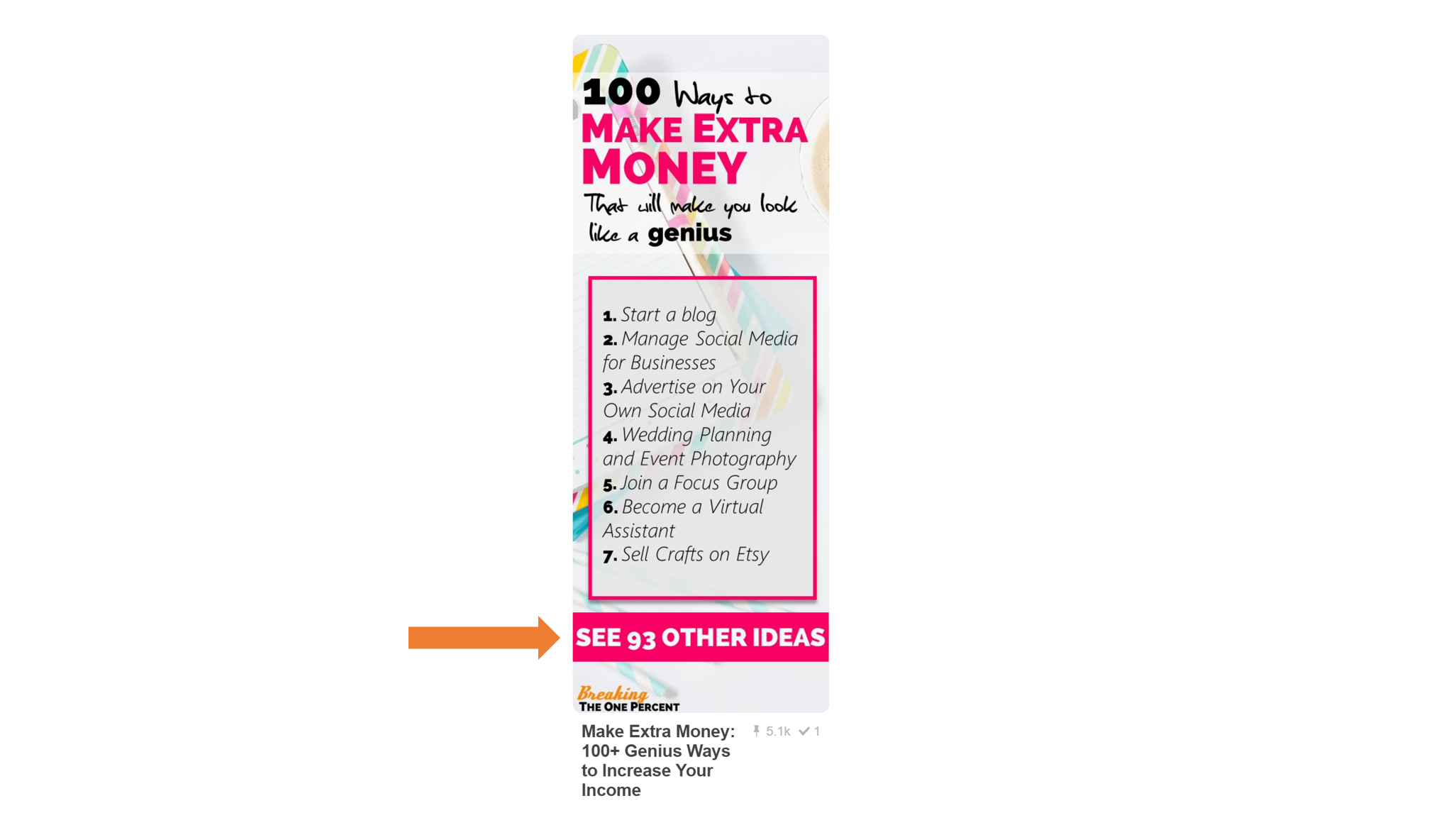 this pin is one of the few that serves the two main purposes: repinning and click through.
What does it mean to "brand" a pin?
You've heard me talk a lot about on-brand vs off-brand pins.
Here's what constitutes "on-brand"
Overall "feel" of the pin is the same as the other pins on your "Best Of" board
Color scheme is the same as other pins
Using the same font collection (no weird fonts that users don't identify as "you")
Pins will have either a) your logo on them somewhere, or b) your url watermarked somewhere.
Example of a well branded pin: